Esquimalt has long been considered a suburb of Victoria, but it now stands on its sophisticated own. Aragon Properties has transformed a former public works yard behind city hall into a vibrant community, so it's no wonder Esquimalt Town Square recently won the award for Best in Vancouver Island at the Urban Development Institute (UDI) awards. Esquimalt's Mayor Barbara Desjardins admitted just a few years ago that "Our town centre is a bit disconnected because we lack a focal gathering point, but we will soon have indoor and outdoor spaces in a new town square."
Over six years in the works, Esquimalt Town Square features two mid-rise condo buildings, a purpose-built market rental building with a ground floor coffee shop and future restaurant, and a commercial building that's home to the new 10,000 square-foot library and office spaces for rent. As for sustainability, the entire community is cooled and heated through a geothermal system, which is both energy and cost-efficient.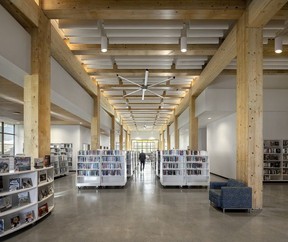 "I wanted central and convenient, so I could walk to work in downtown Victoria and live someplace that supports my active lifestyle," says condo-owner Jeff Coreschi. You can even ditch the car because everything is within walking distance. "I see my neighbours at the café, the rec centre and the grocery store, but the library is our hub, and the outdoor courtyard is a great gathering spot; I bought into a lifestyle."
The Architect
"We made the library and the civic plaza the centre point for Esquimalt's heart," says lead architect Franc D'Ambrosio, "and now people can say, 'Meet you in the village.'" Or meet you at the library. Its floor-to-ceiling windows, high ceilings and exposed, natural-wood beams are much more than a book repository: described by town officials as "a true community living room with a modern design and décor," all the shelves are on wheels to seamlessly transform into a gathering place for events.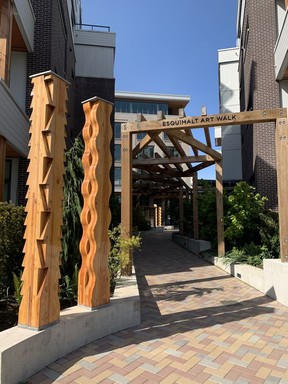 Part of the concourse, which extends public space from inside to outside, is a venue for the Township Community Arts Council and has been acoustically designed for a music hall. D'Ambrosio has also created the heart's main artery: The Art Walk is a public walkway with commissioned art by local artists in six locations connecting the Town Square with neighbourhood streets — a "pedestrian-oriented composition."
The Interior Designer
Aragon's director of interior design, Maria Zoubos, designed the interiors of the condo and rental apartment buildings, from furniture selections to flooring finishes. She says that a properly functioning kitchen is most important. These epicurean spaces feature islands with Kohler faucets and sinks, quartz countertops with polished tile backsplashes and appliances, including a Bosch gas cooktop and wall oven.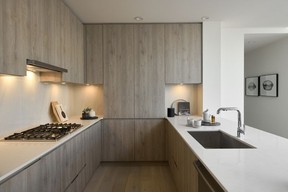 Each home features oversized windows with nine-foot ceilings to capture natural light, engineered wide plank white oak hardwood floors, and some homes have outdoor spaces and private rooftop patios well over 1,000 square feet. "We used a soothing colour palette and reclaimed brick walls to create a modern west coast esthetic," says Zoubos.
Source: Vancouver Sun